The method of operation of high-pressure homogenization
A pressurised product is subjected to turbulent and laminar forces in a very narrow ring-shaped gap.
In this process, fat globules or agglomerates are broken up and evenly distributed.
This physical energy input results in stability, colour intensity, flavour, consistency and a long shelf life, thereby reducing the use of stabilisers.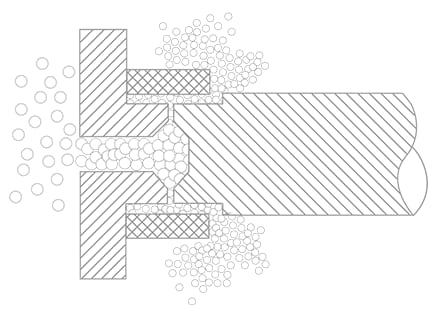 Schematic representation of a homogenizing valve
Machines for laboratory and pilot plant
Production machinery
Series HL2- HL6
Standard series in robust design
Gaulin design
Capacity range 5,5 - 250kW (300l/h until 35.000l/h)
Aseptic design as an option
Atex design as an option
Production machinery
Series HLI 55-90 and HLI8
New machine series "Integrated" with reduced water consumption
Capacity range 55-90kW (8.000 - 14.000l/h) and 400kW (up to 80.000l/h)
Noise insulation cladding
Aseptic design as an option
Atex design as an option
Production machinery
Series HLE3-75
New machine series "Economy"
Capacity range 3-75kW (10.000l/h – 200bar)
Aimed at the low-cost market for small capacities
Versions and options
Product diversity requires variable technology
The product characteristics require a careful selection of suitable materials as well as associated designs. The components used by HST have been developed under practical conditions, tested many times and can be modified according to the application. We offer comprehensive advice on the configuration of your HST homogenizer, so that individually adapted to the needs of your product, an optimal homogenizing result is achieved.
Homogenizing valves
All valves offered by HST are highly efficient, low-noise and easy to service. Different valve materials such as high-strength stainless steels, sintered materials or ceramics can be used to achieve optimum homogenizing effects for a wide variety of products.
As homogenizing valves we offer PLUG, PILOTED and the energy-saving Multigap for our HST homogenizers. The valves are controlled pneumatically or hydraulically, depending on the flow rate and valve size.
Piston versions
The material of our pistons can be adapted exactly to your product properties. We offer standard pistons, chrome-plated pistons, ceramic pistons and pistons with a special HST coating. This HST special coating reduces the abrasion on the piston, which significantly extends the lifetime. In order to guarantee optimum running smoothness of the HST homogenizer, the piston geometry is individually designed on the basis of the given process parameters. This has a noticeable positive effect on the noise emission of the homogenizer, as well as a significant reduction of pulsation in your downstream process.
HST packing system
Tailored to the many different properties of your product, we offer a wide range of materials to enable maximum service life in conjunction with the appropriate piston design. The HST packing system guaranteed a significant extension of service life.
Aseptic design
The aseptic homogenization technique is often used for processing UHT or sterile products. The homogenization only takes place after heat treatment, which significantly increases the creaming stability. HST homogenizers are available in septic or aseptic design. By using on-site superheated steam, condensate or even sterile water as a barrier in aseptic HST homogenizers, recontamination of your product can be excluded.
Wide range of applications
Food industry
Fresh milk
Cream
Vegetable juices
UHT milk
Yoghurt
Baby and infant food
Condensed milk
Ketchup
Sauces and dressings
Mixed ice cream
Fruit juices
Egg products
Special drinks
Pharmaceutical and cosmetics industry
Intravenous emulsions
Liposomes
Ingredients
Textures
Beauty creams
Dyes
Ointments
Cell disruption
Pigment dispersions
Chemicals industry
Lubricants
Fuels/water emulsions
Wax emulsions
Insecticides/herbicides
Resin dispersions
Nanosomes
Colours
Latex